"A big thank you for all your wonderful visits. C has really enjoyed his time with you - time to let him share in your music making. It has picked him up on his lowest days (from chemo) and your generous gift of the Ukulele today was just the best therapy!"
"The baby I was caring for during the music playing increased his oxygen saturations to 100% and so I could turn the oxygen he was receiving down by 3%. He looked so relaxed!"
"A long-standing patient has got great comfort from the music and singing. The patient who has dementia usually gives no eye contact and will just shout out and screw up her face. Today this patient has her eyes open, the most beautiful smile and is humming along to the music"
We make music with people of all ages, from birth to end of life, giving the gift of music at a time when people can be most vulnerable, isolated and feeling low.
Our musicians are trained as Musicians in Healthcare through European partnerships led by Musique & Sante in France. We are a UK leader in Music in Healthcare practice, with over 10 years experience of making music, for and with people in care settings and at the bedside on hospital wards.
We currently work with hospitals, care and mental health settings across the UK East Midlands. Our network of Trainees, Apprentices and Associates deliver practice nationally and internationally.
Want to get involved?
Get in touch - let's work together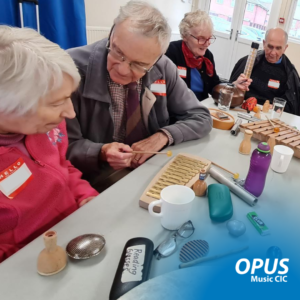 In the serene surroundings of Hillstown Village Hall in Bolsover, something truly special is happening every Friday afternoon. A community music group led by OPUS Music has emerged as a source of inspiration and support for individuals living with dementia and Alzheimer's,
Read More »