Online Course: An Introduction to the role of Healthcare Musician
This course is for musicians, interested in developing or furthering their skills in the field of Music in Healthcare.
The course content has been developed over many years of practice and training delivery by OPUS Music CIC, a national leader in the development of Music in Healthcare practice in the UK.

The course takes place over 5 weekly sessions held on Zoom.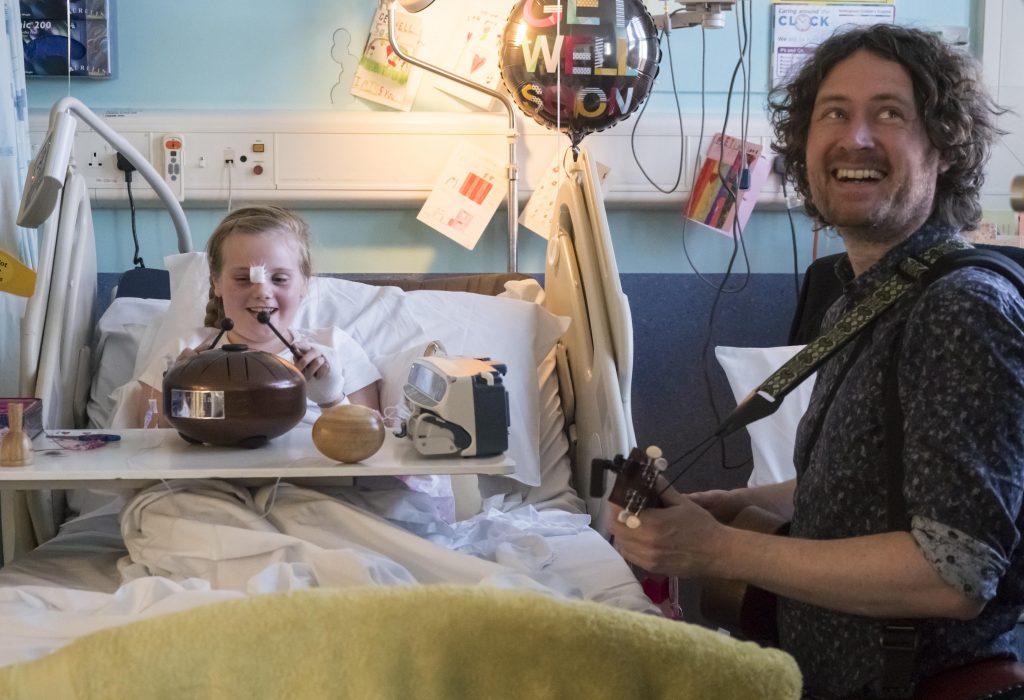 Structure
– 5 weekly online sessions hosted on Zoom each lasting for 2 hours.
– Guided tasks to complete before and between sessions in your own time (approximately 5 hours in total).
– A final debrief/evaluation session held online lasting for approximately 1.5 hours.
Objectives
– Understand and explore the place of music and the musician within health and social care spaces.
– Explore the theoretical and practical competencies necessary to carry out quality musical interventions.
– Explore and reflect upon methods and approaches to musical actions within health and social care settings.
– Explore musical techniques (vocal/instrumental repertoire, appropriate instruments, improvisation).
– Development of reflective practice to support ongoing learning.
– Understand ethical principles underpinning the practice.
Trainers
– Highly experienced members of the OPUS training team, all working as Healthcare Musicians and as Trainers for many years.
Conditions for Musicians
– All applicants must be aged 18 or over at the start of the training.
– Compulsory attendance at all sessions delivered via the Zoom platform (5 online training sessions + debrief/evaluation).
– A commitment to undertaking guided development activities prior to and between the online sessions. (est. 5 hours of self-directed time).
Application Process
– Email us to let us know you are interested in the course – nick@opusmusic.org.
– We will send you a brief questionnaire to complete in order to check that the course is right for you.
– If suitable, we will offer you a place by email.
– Your place is secured upon receipt of payment for the course.
Numbers
– We will have a maximum of 8 trainees on each course.
– In the unlikely event that fewer than 8 trainees are enrolled, we reserve the right to reschedule the course and will provide a full refund or transfer to the next course.
Fees
£400 – For individuals funded by an organisation
£300 – For individuals
£250 – Concession (limited number available)
Cancellations
– Over 30 days before the first day of the course – 75% refund
– 14 to 29 days before the first day of the course – 50% refund
– Less than 14 days before the first day of the course – No refund
Forthcoming course dates
Session 1 – 10am-12pm, Wednesday 8 September 2021
Session 2 – 10am-12pm, Wednesday 15 September 2021
Session 3 – 10am-12pm, Wednesday 22 September 2021
Session 4 – 10am-12pm, Wednesday 29 September 2021
Session 5 – 10am-12pm, Wednesday 6 October 2021
Evaluation/debrief session tba
All times BST (UTC+1)
It is likely that this course will get filled quickly. You are advised to get your booking to us as early as possible to avoid disappointment.