For Healthcare Professionals and Carers
Incorporating music into your own care practice
For Musicians
Taking your music-making into health and social care spaces
For Healthcare Students
Music as part of your future career in healthcare
Bespoke Training
Tailored for you or your organisation
"This course opened my eyes to the many different ways to use music in a hospital setting. If you are a musician first and foremost and want to learn how to transfer those skills into a hospital setting in a sensitive and effective way this is the course for you. Getting to see the course leaders in action was a particular highlight for me."
""I have so enjoyed today. Had a better way of thinking about music. Cannot wait to do this with our patients."
"Working with OPUS enabled me to develop the musical, personal and professional skills I needed to become a Musician in Healthcare, and supported me and my fellow apprentice to establish our new organisation. We are now working in five different hospitals with both children and older people, with more plans in the pipeline."
"Really enjoyed the course - felt it was delivered in an excellent calm and engaging approach and hope to incorporate music more within the therapy I deliver to patients."
"My time with OPUS music has definitely had an impact on my practice in the future. I firstly have a greater appreciation for non-medical staff working in healthcare settings. I've also begun to appreciate the breadth of services designed for health, development and wellbeing. I have also heightened my understanding of patient wellbeing as a whole, by allowing myself a whole month without access to medical notes, taking histories or performing an examination."
"Thank you so much. Brilliant and engaging course that will be invaluable in my future patient care. Nick and Richard were very encouraging. I need to learn the ukulele."
Interested in our training offer?
Get in touch - let's learn together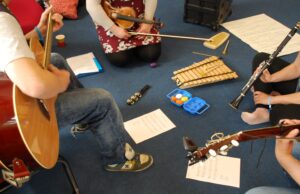 In-person training for musicians: Exploring the role of the Healthcare Musician: 15th – 19th May
Read More »